How to choose the perfect wine for each occasion
Giving a bottle of wine as a present is almost always a good idea and usually greatly appreciated. Wine is also a very suitable gift for lots of different occasions, such as a birthday, housewarming, graduation, an anniversary or simply as a thank you. Of course, you could just buy any old bottle of wine, but you could choose to personalise it with your very own label instead, or in a personalised wooden case!
White wine
Dry, sweet, soft, fresh, fruity - white wine has many variations for every wine drinker. The fact that there is wine for every occasion makes drinking a glass of wine with your best friends even more enjoyable. White wine with lunch, drinks, in the sun or on the terrace. It doesn't really matter where or when a glass of fresh wine is poured. In the summer, many of us automatically go for white, but a white wine can also be served in the winter with a lunch salad or light dish. Which white wine would you like to surprise your drinking partner with?
Red wine
Red wine's red colour comes from the blue grapes it's made of. The skin remains with the grapes while the wine ferments. The red wine colour is different for each wine, because one wine takes longer to create than the other. There is a perfect red wine for every moment, whether it's for a summer barbecue, a strong wine to accompany a perfectly prepared steak or a delicious glass of red wine to enjoy by the fireplace during the holidays. Do you know a real red wine lover to surprise with these wines?
Rosé wine
Sun. Rosé. Snacks. Doesn't that sound like a lovely spring or summer day? Rosé can be enjoyed throughout the year, but is especially popular on warmer days. Rosé wine suits many dishes, making it a versatile drink. Did you know that the colour of rosé wine has nothing to do with the sweetness of the drink, but depends on the grape variety and how long the skin and juice have been in contact? The juice draws all the colour from the skins. Which of your friends or family really enjoys rosé wine?
2 perfect wine accessories for any wine drinking occasions
Enjoying some wine with family or friends is even more fun with these personalised accessories.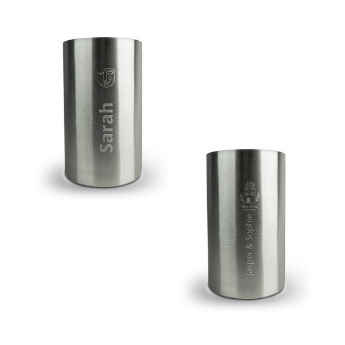 Personalised engraved wine cooler
The best way to cheers is with a glass of wine enjoyed at just the right temperature. Do this in style with a personalised stainless steel wine cooler. The beautiful engraving makes it an eye-catcher for any dining table during a barbecue or picnic.
Create your personalised wine cooler >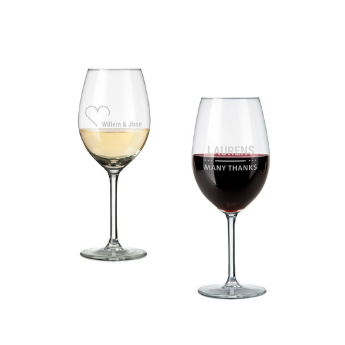 Personalised engraved wine glasses
The best way to cheers is with a deluxe engraved wine glass! Surprise each of your girlfriends with their very own wine glass for all your wine dates. Will you go for white wine glass or red wine glass? We can personalise both types of wine glasses especially for you. Simply design a unique gift featuring the name or text of your choice and one of our stylish designs in our online editor.
We also have a How it's made episode for our personalised champagne glasses, take a look: How it's made - champagne glasses. Did you know that you drink an average of 125 grapes per glass?
Create your personalised wine glasses >
Who would you like to enjoy a glass of wine with? Cheers![