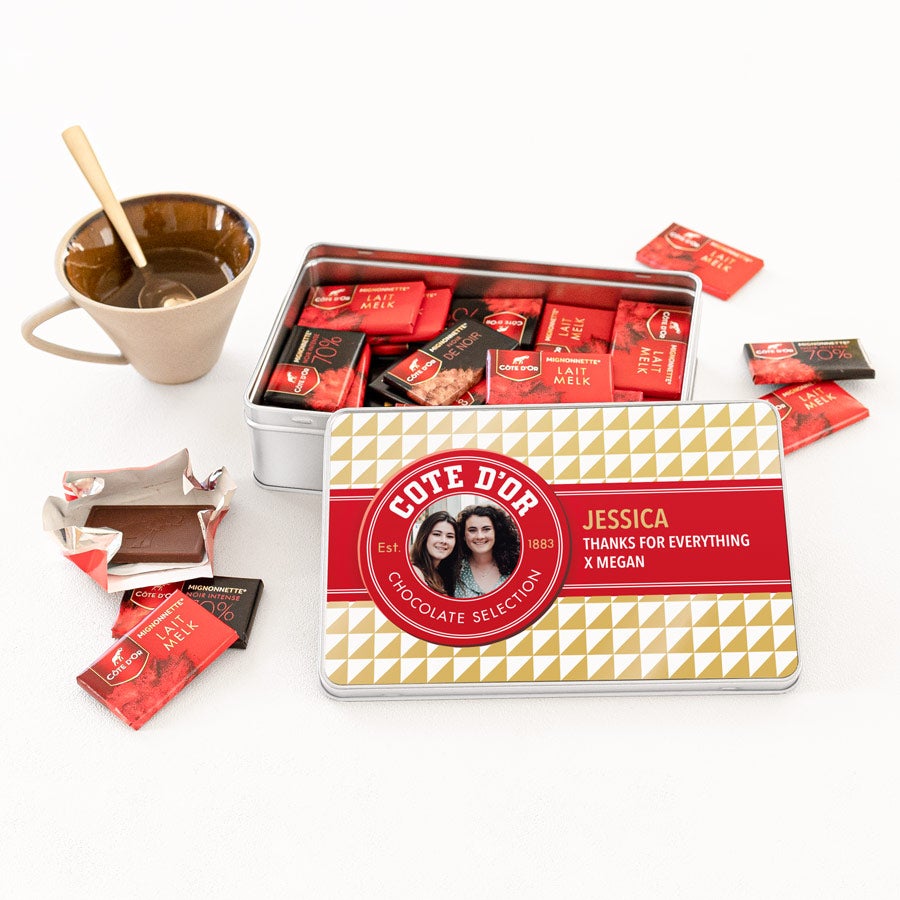 Personalised Côte d'Or biscuit tin
Select your delivery option in your shopping basket
Filled with delicious Côte d'Or chocolate
Your design, picture-perfect and in full colour
Gifts specifications
More information on the
Côte d'Or Vintage Chocolate Box gift tin
:
Shape: rectangle
Material: tin
Dimensions: 20 x 12.5 x 5 cm
Contents: Mignonette Milk, Mignonette Dark, Mignonette Noir Intense
Weight: 320 gr (32 chocolates)
Personalisation: photo and/or text on an aluminum photo plate on the lid
Please note that, if temperatures reach 25 degrees Celsius or over, we are unable to guarantee the quality of your gift.
For technical reasons, it is not possible to use Cyrillic, Greek, Asian, Arabic or special characters.
Ingredients:
Côte d'Or Mignonette milkchocolate
Milk chocolate: sugar, cocoa mass, skimmed
milk
powder, cocoa butter, whey powder (
milk), milk
fat, emulsifier (
soy
lecithin), flavourings.
Contains at least 33% cocoa.
Allergens:
Milk, soy, may contain nuts.
Côte d'Or Mignonette dark chocolate
Extra dark chocolate: sugar, cocoa mass, cocoa butter, low-fat cocoa powder, emulsifier (
soy
lecithin), aromas, skimmed
milk
powder.
Contains at least 54% cocoa.
Allergens:
Milk, soy, may contain nuts.
More information on the ingredients and nutritional values can be found here.
Surprise your loved ones with a personalised gift tin filled with delicious Côte d'Or chocolate!
Do you want to surprise a real chocolate lover with a unique and personal gift? This rectangular gift tin is the perfect present for any occasion! The tin is filled with a mix of delicious Belgian Côte d'Or chocolate. You can print the tin with a sweet photo and the name of the recipient. You can also add a free gift card with a special message for the recipient. This makes your present complete!

Making your own gift tin is not difficult at all! In the handy editor you choose one of the two designs and add your favorite photo and optionally the name of the recipient. We will then ensure that your work of art is printed on the gift tin with love. A unique and especially delicious gift for Mother's Day, Valentine's Day or just as a surprise for your best friend.
FAQ
Personalising & ordering
What is personalising and how does this work on the website?
You can start making your gift by clicking the 'start personalising' button. In our gift editor, you can personalise the gift completely in accordance with your wishes: add your own picture and/or text. If you want, you can also opt for a cool design to make your gift truly unique.

Is personalisation included in the price?
The price shown on the website includes the personalisation of your gift. Nice and clear!

How do I know if my picture has the right quality?
In the gift editor, you will receive a notification if the quality of the picture is insufficient.

What formats can I upload?
You upload JPG and PNG files into our editor. Is this too technical or do you have an image of a different format you would like to use? Please contact our customer service. They are happy to help you so you can make the gift you want!

Is my gift wrapped?
Currently, we do not have a gift-wrapping service to wrap your present. We do deliver our gifts in a festive packaging. This means that your gift is ready to be given or that it can be sent to the recipient directly.
Delivery time, delivery options and delivery costs
Can I choose a delivery date?
It is not possible to select a specific delivery date.

What is the delivery time and when do I receive my gift?
The expected delivery dates can be found on the product page.

What delivery options can I choose?
This varies per gift/order. You will be shown the available shipping methods in the shopping basket when completing your order.


Payment
How can I pay my order?
We offer the following payment methods: iDeal, Paypal, credit card and manual bank transfer. In case of manual bank transfer, please note that this takes up to 3 working days to be processed, and will delay the expected delivery dates.


Gift received
What if the gift is not entirely to my liking?
We deeply regret that your gift is not to your liking. Please contact our customer service, they are happy to help you find a suitable solution.

Is the invoice sent along with the order?
No invoice is not sent with your order. You will always receive the invoice in the confirmation email and you can always find it in your MySurprise account. This means you can have the gift delivered directly to the recipient, making it a true surprise!
Reviews
There are currently no reviews written in this language
Business gift?
Interested in ordering larger numbers of this gift? Please fill in the request form and receive an instant price quote. You can reach out to us directly via b2b@yoursurprise.is or during working days by phone between 6:30 to 15:00 (GMT)
Every gift with unique personalization
Shipped directly to the recipient