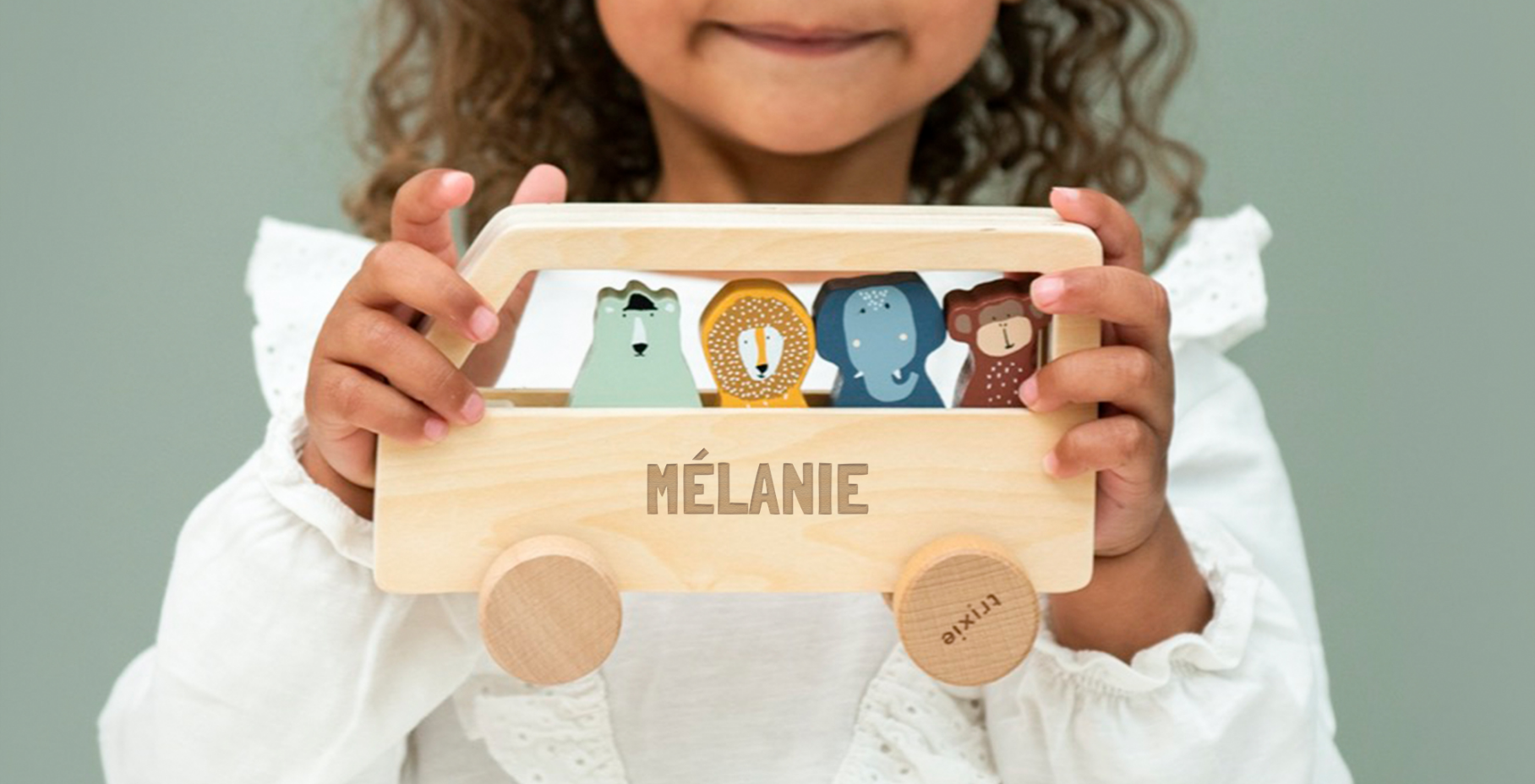 Personalised Wooden Toys
Create your own personalised wooden toy for the little ones in your life, featuring the boy or girl's name and a cute design.
Personalised wooden toys
We offer the best personalised wooden toys here at YourSurprise. Both girls and boys can have hours of fun with these wonderful toys. We have a beautiful wooden pram in white, a cool wooden cargo bike with room for toys and a cool wooden balance bike and tricycle for the slightly older children. For those taking their first steps, we have a lovely pushcart and push-along car.
All of the wooden toys can be personalised with the name of your choice. Select from various fun designs in our online Editor and add the name. We will then attach the design to the wooden toy for you, with great care and attention, to create a beautiful toy that the recipient will love for a long time.
Wooden pram
If your little one just loves to bring along their dolls everywhere they go, our beautiful wooden pram is perfect for them. They will be able to play the role of the proud parent as they walk and push their dollies around. Make the pram truly unique by adding the child's name to one of our fun designs. The wooden pram is made with sturdy birch plywood with beech wood details and has a glossy white finish. The wooden pram is suitable for ages 1 and over.
Wooden tricycle
Our personalised wooden tricycle is a beautiful gift, featuring the recipient's name on the frame. The seat is adjustable, which means that the child can enjoy using it for longer. The tricycle is suitable for ages 1.5 and over.
Wooden balance bike
Our cool wooden balance bike has two wheels and is suitable for children who are practising their balancing skills. The wooden balance bike is suitable for ages 1-4.
Wooden cargo bike
Our wooden cargo bike is a real eye-catcher, with enough space to bring along some toys. That'll make tidying up a lot more fun! The wooden cargo bike is suitable for ages 1 and over.
Wooden push-along car
Our wooden push-along car isn't just any old car! It features four wheels, a steering wheel and is suitable for storing toys, too. This wooden push-along car will help your child to learn how to push, ride and put their toys away; 3-in-1. The wooden push-along car is suitable for children aged 10 months and over.
Wooden pushcart
If you're looking for a cool retro vibe, our wooden pushcart is the gift for you. The compartment dimensions are approximately 35 x 27 x 9.5 cm, which means it can hold lots of toys. You can add the name of your choice to the front. The wooden pushcart is suitable for ages 1 and over.
More on our personalised wooden toys
All of our wooden toys are made with sturdy, splinter-free beech plywood, with beech wood details. You can add a personal touch to all of the toys by simply adding the name of your choice in our online Editor, selecting from various fun designs for the perfect finishing touch. YourSurprise will then attach your design to the wooden toy with great care and precision, creating a beautiful toy that is not only fun but durable too.