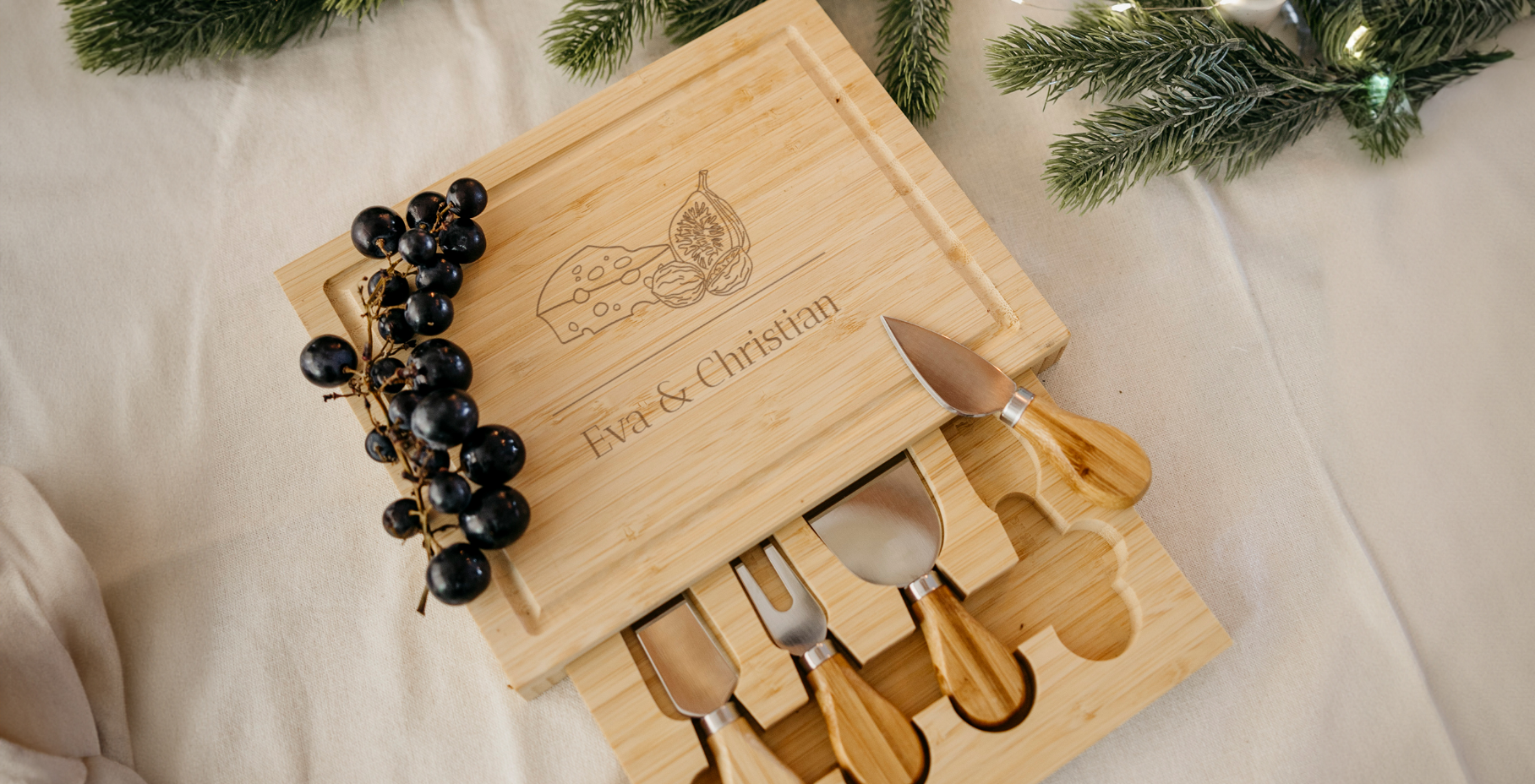 Kitchen Gifts
Do you know someone who has a passion for cuisine? Surprise your special person with a personalized kitchen accessory . Customize it with a name and/or text!
You've seen 48 of 134 gifts
The best personalised kitchen gifts
If you're looking to surprise a loved one who loves spending time in the kitchen with a cool, personal gift, you're in the right place. We have the best accessories for any budding chef!
Personalise your gifts
The best thing about our gifts is that you can personalise each and every one. That means that you can add the name, photo, text and/or logo of your choice to create a truly unique gift for him or for her. If you're not quite sure which gift to go for, let us inspire you.
Chopping boards and knives
All chefs need a good chopping board and knife set. Create your very own glass chopping board by adding the photo of your choice, or have a personal message engraved on our knife block. The knife block includes a 9-piece knife set. The wooden chopping boards can be used to slice bread, as serving boards or as pizza boards. We laser your chosen design into the wood to make it truly unique. A beautiful gift, and can also be used as a cheese or charcuterie board.
Mugs and glasses
Tea and coffee lovers, pay attention! Surprise a loved one with their very own tea glass or mug. The glasses can be engraved with the text of your choice and one of our lovely designs. As the personalisation is engraved, there's no risk of fading. We offer a large assortment of mugs with various types and colours. For example, we have our magic mug, which has a black coat that disappears when a hot drink is poured in. If you like the rustic, classic look, our enamel mugs are perfect. These cute mugs have an enamel finish and can be printed with the text and/or photo(s) of your choice.
Chef hat, apron and oven gloves
A true chef needs the perfect look! Personalise a chef's hat or apron for them to wear while they whip up their tasty treats. An apron is one of the most practical kitchen gifts for both young and old. If you have a little one that enjoys helping out in the kitchen, why not go for matching aprons? If you're looking for a truly special apron, our leather aprons are perfect. These aprons can be engraved with the name or text of your choice. If you'd prefer to personalise an apron with a photo, you can choose from our fabric aprons. Good oven gloves are a must-have in the kitchen. You can have a pair of leather oven gloves engraved with the name or text of your choice, or you can opt for a pair of fabric oven gloves and add the photo and/or text of your choice. Our leather oven gloves make perfect BBQ gloves too.
Placemats, plates and cutlery
Set the table with personalised accessories. Add the photo and/or text of your choice to placemats for the perfect finishing touch to your table.
If you'd like to surprise your little one, give them their very own personalised plate featuring the photo and/or text of your choice. Meals will be more fun than ever!
We also offer a beautiful Miffy cutlery set for the little ones, which can be engraved with their name. A practical gift they will enjoy for a long time.
Tablecloths and napkins
If you love setting the table in a cool, creative way, add a personalised tablecloth and set of napkins. The tablecloth is made with high-quality polyester and cotton, making it easy to clean and reusable. Simply add the photo of your choice, or create a collage if you have more than one photo that you'd like to use.
Our cotton napkins can also be personalised with the photo(s) of your choice. They are made with high-quality cotton and can be machine-washed. A beautiful addition to the Christmas dinner table, or any other festive occasion.
More great kitchen accessories
There are plenty of other fun accessories to personalise and give as gifts. How about a personalised soap dispenser for a fun twist to hand-washing, beautiful engraved leather coasters featuring the name or text of your choice or printed coaster featuring your favourite photo(s)?
If you're looking for a lovely gift for grandma or grandpa, our biscuit tin is a great idea. You can add a fun photo of the grandchildren to create a truly personal gift.